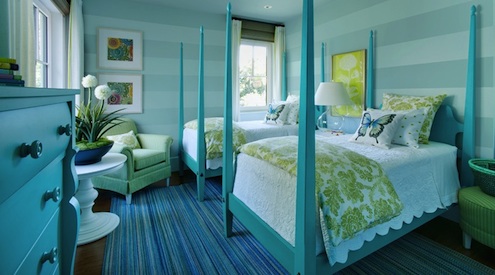 In her position as director of color marketing for Sherwin-Williams, Jackie Jordan spends her days looking at color, thinking about color, and predicting which colors will work best in today's homes.
While whites and creams still rank among the most popular paint choices in America, Jordan has noticed home color use steadily growing over the past decade. "People are becoming less fearful of using color," she says.
Here are her tips on choosing harmonious hues for your own home:
Turn on the TV
Jordan credits the popularity of quick-makeover shows for inspiring people to experiment with bright and sometimes even unexpected paint colors. On these kinds of TV series, people are often involuntarily pushed beyond their color comfort level, and most are pleasantly surprised with the results.
Look around you
To find colors that you'll love to live with, survey your wardrobe, walk in your garden, or hunt around your house. A favorite scarf, flower, or throw pillow may help you identify the perfect paint color.
Utilize new technology
Web tools and smartphone apps have completely transformed the color selection process — for the better! One example is Sherwin-Williams' ColorSnap®, a mobile app that shows what different shades would look like on the walls of any room you've "snapped" a photo of.
Get samples
Images in magazines or on the computer can point you in the right direction, but the only way to really see how a color will look in your home is to get a sample from a retailer.
Save your walls
Rather than painting a square that will later need to be covered with primer, ask for a "Small Wall." You can move these adhesive-backed paint sample boards around the room to observe the effects of sunlight versus artificial light. Likewise, you'll be able to judge how the color will look beside furniture or artwork sharing the space.
Start small
If you're feeling timid, experiment with color in a cozy powder room or an out-of-the-way guest bedroom. Then if you're pleased with the look—and if friends can't stop complimenting your choice—consider a bolder palette for other spaces as well.
Break it up
Still overwhelmed by the thought of four walls of color? Consider an accent wall, or if you have waist-high wainscoting, paint a bright shade up above and white down below.
For more information and resources, visit Sherwin-Williams.
Related:
Bob Vila is the home improvement expert widely known as host of TV's This Old House, Bob Vila's Home Again, and Bob Vila. Today, Bob continues his mission to help people upgrade their homes and improve their lives with advice online at BobVila.com. His video-rich site offers a full range of fresh, authoritative content – practical tips, inspirational ideas, and more than 1,000 videos from Bob Vila television.